Each Aqua Biofilter™ project design and installation is based on client and stakeholder needs, project requirements according to relavent regulations, and key water quality data that guides the project approach.
Project Requirements to take into consideration when thinking of developing an Aqua Biofilter™ installation are:
1) Existing Water Quality Parameters
2) Proposed Water Quality Targets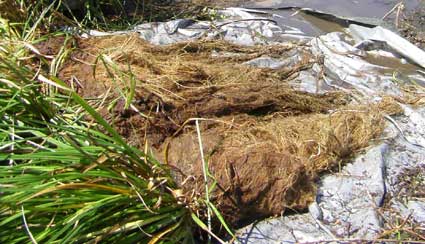 Aqua Biofilter™ modules are constructed ruggedly, made of long lasting materials, built to last, in any conditions.
3) Specific Pollutant Reductions
4) Site characteristics such as local and regional ecology, aquatic biology, water depth and variation, rainfall and storm events, atmospheric variation, exposure to wind and other site influences, etc.
5) Birdlife and aquatic animals.
6) Habitat and other values.
Installation costs are variable according to the above factors. Previous installations have ranged according to project, site, client and stakeholder requirements. and in different countries. Please contact Tom Duncan info@aquabiofilter.com for further information.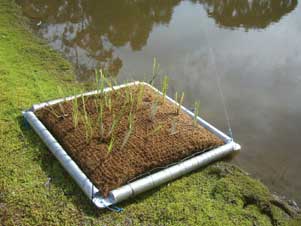 Aqua Biofilter™ Bega Urban Stormwater Wetlands Trial, Carex after 14 months growth, 2.2 metres in length, at planting only 30cm length.