Aqua Biofilter™ Floating Wetlands & Floating Islands
The Aqua Biofilter™ is a unique biofiltration product and service that treats waste water, stormwater and aquaculture water. Our proprietary Aqua Biofilter™ ecosystem service and product is integrated into our range of Aquaponics Gardens, Floating Wetlands, Floating Reedbeds and Floating Habitat Islands. Biomimicy of natural systems allows nature to be restored to a state of balance, benefiting human health and wellbeing by purifying water that we enjoy for drinking, bathing, showering, irrigation, recreation, and also the treatment of waste water that is to be released into the environment.
The Aqua Biofilter™ floating wetland treatment technology that can be utilised within a wetland treatment train either retro-fitting or designed into future wetlands. Detention basins can be designed larger & deeper, effectively providing more storage and HRT. Wetlands can also be sized smaller as a result, bringing down costs, achieving best practice and effectively treating TN, TP, TSS and reducing heavy metals. Ecological and human health can benefit from floating wetlands, and biomimicy of natural systems restores natural balance.
The Aqua Biofilter™ functions by removing nutrients and pollutants from waste water, stormwater and aquaculture water, through biofilm contact with our unique Aqua Biofilter™ technology and the plant growth that our products support. Wetlands are the kidneys of the landscape, purifying and cleansing waterway pollutants, heavy metals, and excessive nutrients. Often wetlands and ponds accumulate excessive sediment, nutrients and pollutants whilst water quality declines, algal blooms and aquatic weeds proliferate reducing biodiversity. Restoring ecological function and healthy biological activity requires natural systems that mimic peak ecosystems – which led us to design and development the Aqua Biofilter™ in 2004, to improve water quality beyond existing methods for ponds, wetlands and waterways.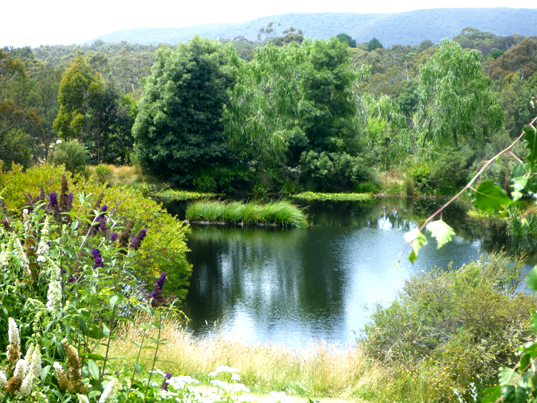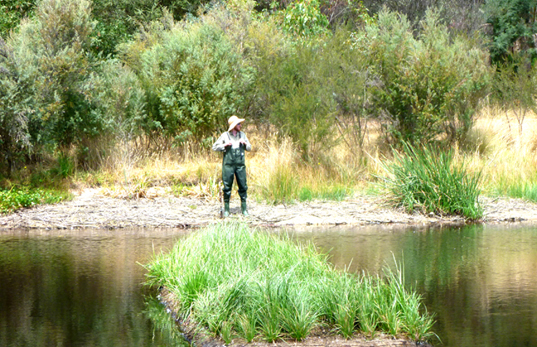 Background
Inventor of the Aqua Biofilter™, Tom Duncan, recently miniaturized the technology down into a tabletop aquaponics system, the Aquaponics Kitchen Garden. Tom's background in permaculture and environmental management led him to teach Permaculture Design Courses from 2002 onwards with the co-founder of Permaculture David Holmgren and other well known designers, specialists in Regenerative Agriculture (Regrarian) Darren Doherty, Permaculture Designer and Teacher John Champagne, whilst keeping in close contact with his teacher Geoff Lawton founder of the Permaculture Research Institute. Since 2000 Tom has been building aquaponics systems in largescale and small scale aquaculture systems across Australia and China. His projects include the largest aquaponics systems in the world, covering in some cases, hectares of aquaculture pond and lake with plants including rice and flower and forage products including canna lily.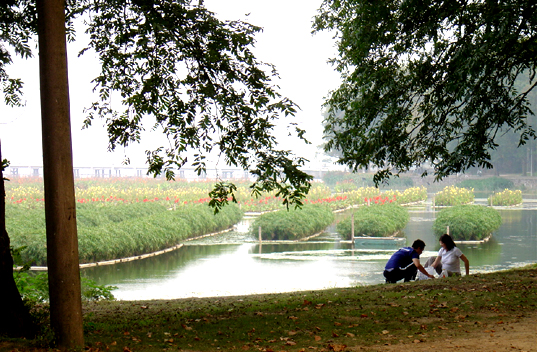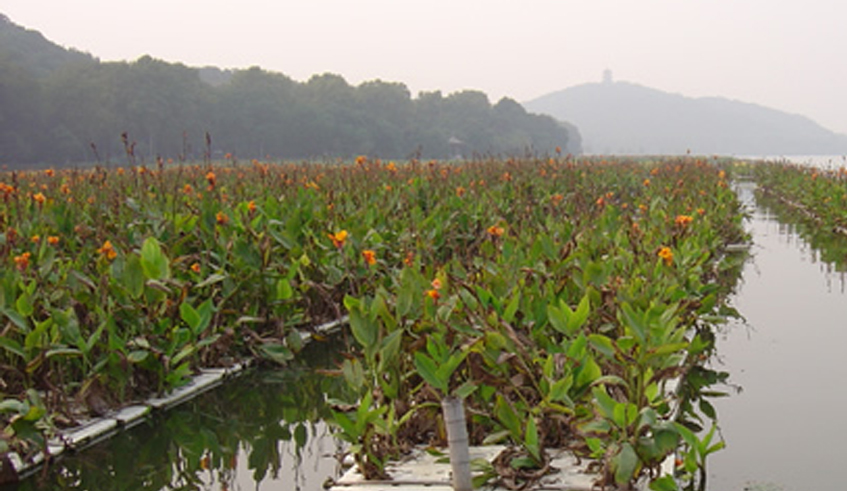 Aquaponic floating wetlands pictured above was installed over several hectares of aquaculture zone in Lake Taihu, China. The aquaculture was being impacted by stormwater and cross contamination with effluent, whilst fish waste led to ammonia build up and exacerbated algal blooms. Canna lily feature an edible rhizome with carbohydrates, whilst in the project below, wheat is grown in urban waterways and canals in a new residential area of Nanjing. Experimenting with food crops, wetland species, native sedges have led to in depth knowledge of plant – fish interactions, growth cycles and smart design principles to accelerate plant growth and purify water quickly.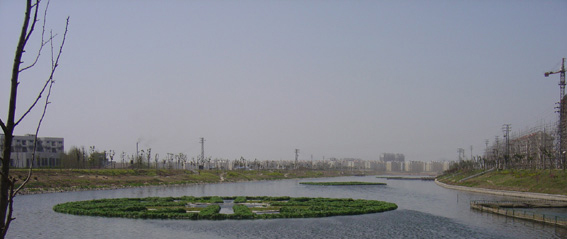 Above project, growing wheat in the Nanjing eco-city development.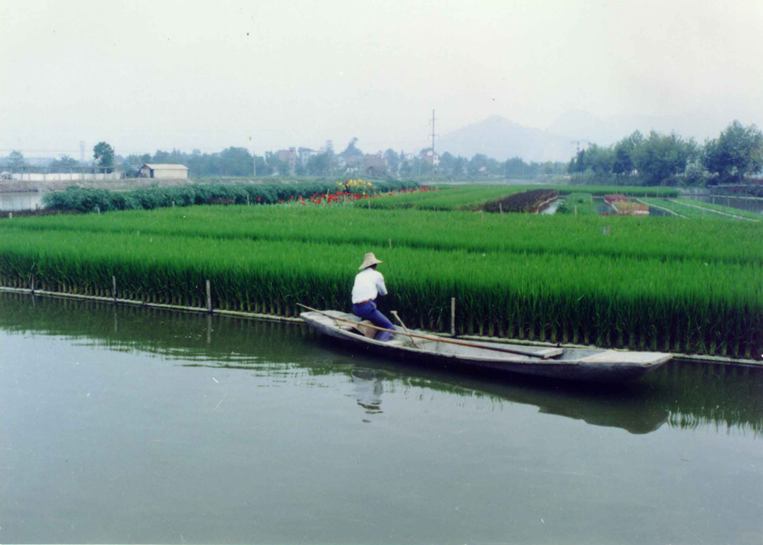 Above project rice aquaponics growing on fish ponds to remove excess nutrients and provide and economic return for farmers. Social benefits include reducing nutrients and pollutants impacting receiving waters, lakes the marine environment, and enhancing humanand fish health outcomes.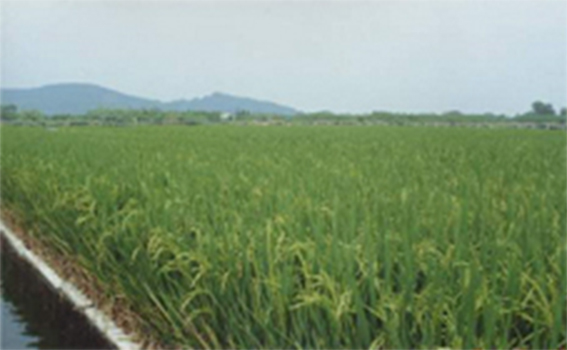 Above project growing over a hectare of rice on fish ponds aquaponically to reduce ammonia and nitrogen, producing 20% more rice 15% faster than conventional rice paddy.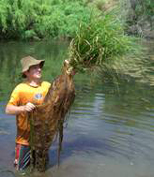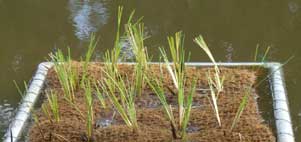 Reduction
TN 40-80%
TP 50-80%
TSS 50-80%
Clarity 50%-252%
Metals 50-95%
Pathogens 50-90%
Advanced Biofiltration Research and Technology development has been an emerging science for the last 30 years. Installations in Australia, Malaysia and China and USA have demonstrated the feasibility of the technology, and its applications in aquaculture, stormwater treatment, sewerage and on-site sewage treatment, industrial effluent treatment, often for water re-use.